BODY INJURY TRACKING POSTER
Our Body Injury Tracking Poster helps you track and post job-related injuries to various areas of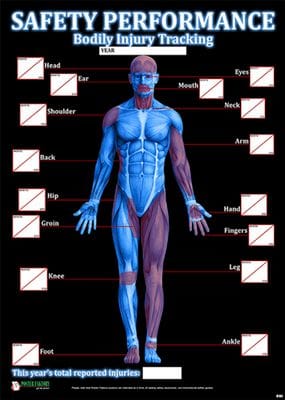 the body and includes a space to post both monthly and year-to-date injuries.
Posting injuries helps remind employees where their biggest exposures to personal injuries are and where they need to be particularly careful.
Add your company logo to send a cohesive message to employees that your company cares about their personal safety.
Display this wipe clean aminated poster in a high traffic area or in a place where incidents tend to occur in your facility.
The poster is fully laminated and is for sale in A0 and A1 size.